Faculty and Staff
Please Enter valid team tag for below staff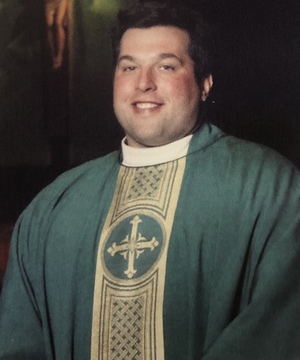 Rev. Sean Rogers
Pastor
Mr. Joe Filice
Principal
Mr. Joe Filice
Principal
Mrs. Carmen Sandoval
Office Manager
Mrs. Laurie Hagele
Enrollment / Marketing
Mrs. Megan Ferguson
Transitional Kindergarten / Athletic Director
Mrs. Megan Ferguson
Transitional Kindergarten / Athletic Director
Mrs. Ferguson received her B.A. in Human Development from Sonoma State University as well as her multiple subjects credential from Sonoma State University. She joined the St. John the Baptist family in 2019 and loves teaching TK to make sure that students find their joy of learning at a young age. She believes that having hands on learning is important and to tailor the needs of every student to make sure that their learning needs are met. When she is not in the classroom she enjoys spending time with her husband and pets, baking and reading a good book.
Mrs. Audra La Sala
Kindergarten
Mrs. Maeve O'Sullivan
Grade 1
Mrs. Maeve O'Sullivan
Grade 1
1. 23 years as the first grade teacher at SJS
2. I graduated from Loreto High School, Coleraine, N. Ireland
3. B.ED Degree from Queen's University, Belfast, N.Ireland
4. Multiple Subject Teaching Credential from Dominican University San Rafael in addition to a New York Teaching Certificate
5. Outside of St. John's:
1/2 combination class in The Foreglen, N. Ireland for 1 year
3rd grade at Guardian Angel School, Chelsea, New York City for 11 years
Drama Department at The University of Jordan in Amman, Jordan for 1 year - assisting in producing Shakespearian plays
6. Favorite pursuits:
Travel, travel, travel - my husband, Chris and I have traveled around the world and hope to enjoy many more adventures in the future - always enjoy learning from and about different cultures
Running 3, 5 and 10k races - have won a couple of gold medals
Hiking near Fox Pond and on the surrounding trails - we do this every day despite the weather conditions
Baking - love to bake scones
Cook - international foods from recipes I have discovered in countries around the world
Read - particularly the works of Irish poets Seamus Heaney (who grew up 15 miles from my home town) and William B. Yeats in addition to non fiction, travel and culture books.
Historic Research - for the past 20 years, I have assisted Chris with academic research in The National Archives, The Library of Congress, The FDR Library (Our favorite place), National Archives, London England, Harvard and several other historic places. I edit Chris's scholarly books and articles and assist in choosing photographs etc.
Keep in close touch with my family and friends in Ireland and England
Teaching Highlights
High School students have written letters expressing that their love for math resulted from a program in first grade titled "Piggy Math" - over the years, I have received several letters on this subject and feel honored to have helped students develop a love for math
Encouraging all of my students to think globally and to embrace the "Big World" beyond. We do this through programs such as "Paintbrush Diplomacy" and "Pennies for freshwater wells" in addition to having pen pals overseas
Observing a child beginning to enjoy reading for the first time - sharing in the adventure of reading chapter books and comprehending stories - magical !
Mr. Joe Rogers
Grade 2
Mr. Stephen Hammerle
Grade 3
Mrs. Melodie Oseguera
Grade 4
Ms. Ginny Conrad
Grade 5
Mrs. Kim Arata
Grade 6
Mr. Jim McLees
Grade 7/Computer & Tech Support
Mr. Chris Picott
Grade 8
Nicole Au
TK aide
Mrs. Judy Sarao (M/Tu/W)
TK/K
Mrs. Judy Sarao (M/Tu/W)
TK/K
Judy Sarao and her husband, Michael, have been parishioners at Saint John the Baptist Church for over 20 years. She grew up in the Bay Area and attended parochial schools through high school. She attended cosmetology school at San Mateo Junior College and completed the two year program receiving her cosmetology license. She practiced hairstyling until the year 1999. While working as a stylist, she also taught aerobics and was a personal trainer. When she moved to Healdsburg, Judy decided on a career change. She interviewed for a job at American Airlines as a flight attendant and was accepted into the program. She graduated from the Academy and was based in New York for a year before getting a transfer to the San Francisco base in 2000. After a back injury, she was forced to retire from the airlines. But when God closes a door, he always opens a window. An opportunity presented itself when she saw an announcement in the church bulletin looking for help with after school childcare at St. John's. This led her to her present position as teacher's aid for TK/kindergarten. She loves working with the children and wished she had discovered this passion earlier in life. Her hobbies include crocheting, art projects and walking/breeding Labrador Retrievers with her husband.
Mrs. Jenny Lopez
Kindergarten (K)
Mrs. Jessica Wilhelm
Grade 2
Mrs. Teresa Capron
Jr. High Math Teaching Assistant
Mary Munsell
7th and 8th-grade science coordinator/teacher
Mrs. Haley Kandarian
Grade 7 / Data Entry
Mrs. Anna Filice
Grade 3
Mr. Bob Blasser
Grade 4
Mrs. Christina Giordani
Grade 6
Mrs. Lindy DeBenedetti
Resource Teacher
Mrs. Heather Swicegood
Resource teacher
Mrs. Suzanne Crotty
Religion Coordinator
Mrs. Suzanne Crotty
Religion Coordinator
I was born in Quebec City, in Canada. My family spoke French and English at home, and I have since learned Spanish, so languages are my hobby. I studied linguistics in college, and earned a BA and MA in teaching ESL. I taught English in Thailand and in Santa Rosa. My other passion is teaching religion. I am a Master Catechist, and love teaching both children and adults about our faith.
Mrs. Katy Gladden
Librarian
Mr. Brian Huetter
Facilities
Mr. Tony Campos
Facilities
Ms. Denise Youssef
Music
Ms. Denise Youssef
Music
Hello St. John's community!
I am very happy to be back as Music Instructor here at St. John's, as I am also employed as Director of Music/Liturgy at St John's Church. I have lived in Sonoma County (Santa Rosa) pretty much my entire life, with the exception of the 18 months I spent living in Boston after graduating from SSU with my Bachelor degree in Music in May 2000. While living in Boston, I worked for the Archdiocese as Music Director at Boston University's Newman Center, and also filling in as music leader at St. John's in Quincy, MA on occasion.
I am an alumnus of St. Rose Elementary and Ursuline High School and I also attended the SRJC for a few years after high school, receiving my AA degree (Liberal Arts) in May 1997.
I have been a musician for literally my entire life - since standing on my tippy toes at the piano in my home as a toddler exploring the keys/sounds that it would make. I am primarily a self-taught pianist - only receiving formal instruction in my instrument while at the SRJC and SSU. I have also participated in several choirs throughout my college years and have been active in my church choir/music ministry at Resurrection Parish (Santa Rosa) for over 25 years. My strengths lie in music composition, theory, singing, piano, arranging and music history/appreciation. I am a strong supporter of the arts - regularly attending symphonies (we have an awesome Symphony here in Santa Rosa!!), jazz clubs, ballets, Broadway productions... and you can often find me at many other venues where there is live music - especially jazz or classical!
In my free time I enjoy traveling - long and short distances - with my son, Simon, who is a budding percussionist/Taiko drummer/beatbox rhythm creator and we live in a cozy condo in Santa Rosa with our two orange tabby cats, Guinevere & Lorezno, and our colorful beta fish, Francisco!
I love coffee... gardening... reading... learning... jam sessions... drum circles... exploring new places... day trips... bookstores... the ocean... San Francisco... Armstrong Woods... coffee... coffee... and MORE coffee ... and I am very much looking forward to getting to know better this community/family of St John's - exploring the many aspects and avenues of Music... let's see where the musical road takes us!
Mrs. Deborah Padrick
Art
Monica Esquivel
Spanish
Mrs. Liz Matos